Red Flags is a full on multi-player advanced Tactical shooter , where you can choose one of the five factions, United Kingdom,United States of America, Soviet Union,Canada,North Korea,and then you will be put into a squad.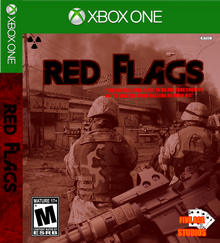 Development Company : Five Ace Studios
Game Title/Name : Red Flags.
Game Publisher : GameProStudios
Turns to make: released
Genres : Tactical Shooter, First Person Shooter.
Consoles : Xbox One , PS4 In The Future.
Game Development Start : Turn 53
Game Development End : Turn 55
Main Gameplay Edit
Muilt-Player : Be Able to play with your friends!, Internet Will Be needed.
OFFLINE MODE : You can play offline mode with AI bots, on player level base.
GAMEMODES Edit
Capture The Flag : Your team has to capture and return the enemy's flag, so does the other team.
Team Deathmatch Conquest : This is where all factions battle And Conquer others to win, in a 25 player match, with one squad for each team.
MORE COMING SOON!.
Other Details Edit
Red Flags will be marketed for mature audience.
Tense Music ( When in battle ).
Calm Music ( When no ones around ).
Voice Actors ( No Famous Actors ).
Sound Effects.
OFFLINE MODE.
AI BOTS -- OFFLINE MODE.
Multi-Player -- Play With Your Friends!.